Sailing the Ionian and Saronic Islands
We recently sailed the North Ionian islands ( Sep 2019) and after sailing the Saronic islands (June 2018), we thought a post about the two would be appropriate.
Firstly, sailing anywhere in Greece is sure to be an amazing experience. With more than 1400 islands and one of the longest coastlines in the world and beaches and sunshine that stretch out for longer than the kids summer breaks.
The Ionian Islands
When people think of sailing anywhere around Greece most are drawn to the Ionian islands.
The north Ionian islands are easily accessible from Corfu and southern Ionian accessible from Lefkada.
These iconic group of islands are a sailing holiday dream with short distance's between turquoise bays and pretty harbours. You never have to travel far before those google pictures you have been dreaming of become a reality.
The one thing that really struck us on these islands is how green they are. It is almost a natural phenomenon having travelled down the Adriatic coast many times. Where the landscape, especially as you move south becomes very dry and arid like. But head across the bay from Albania to Corfu and it's surreal how the lush green islands appear. This really enhances the beautiful colours of the waters and the white sandy coves that appear around every corner.
We set sail out of Corfu and headed south to the islands of Paxos and further south to Anti Paxos. The further south you go the less populated the islands. Both islands are extremely beautiful and offer a contrast of sandy coves on one side and large caves and rugged landscapes on the other. Giaos especially is a gem of the Ionian coast a beautiful harbour town concealed in a small inlet. Giving a very unique feel.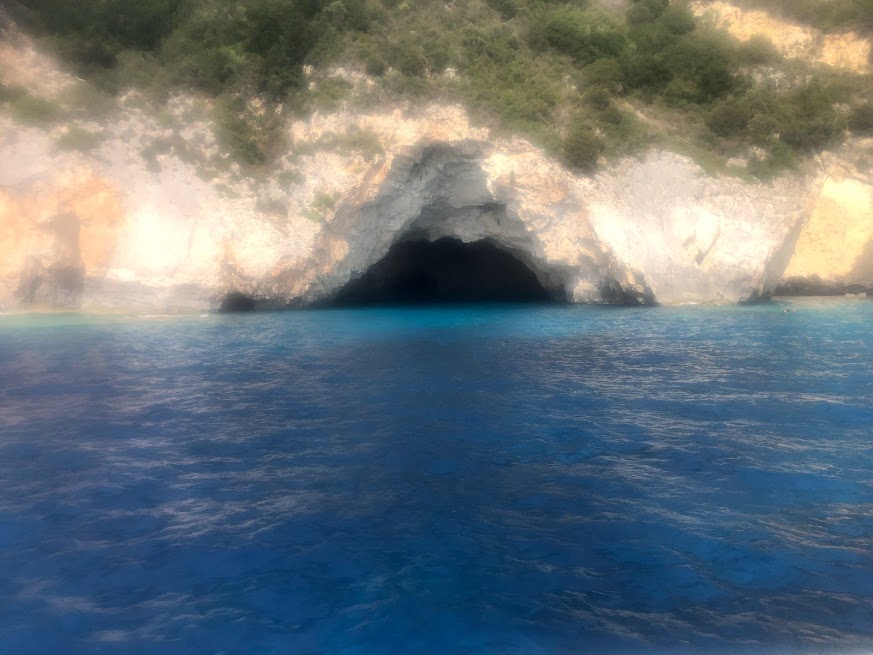 We also touched on the mainland for one night at the stunning long sandy BBQ beach.
Like the Saronic islands having the wonderful Poros, you start and finish on the stunning island of Corfu which can sometimes be overlooked as a party island with Kavos being its main attraction. Don't be fooled, Corfu is a diverse island offering everything a holiday goer would want. So don't forget to extend you sailing trip into a land trip as well.
Sailing conditions for us were very good, getting the sails up most days with stronger winds being found between the islands.
Saronic Islands
Located in the Aegean sea an hour by ferry from Athens is this cluster of islands. More traditional to the Greek landscape these islands are much more baron and scorched from the hot arid climate.
Reaching the start point for your sailing holiday is a highlight in its self as our flotilla started on the beautiful island of Poros. With its old town it's such a charming island and a lovely place to prepare and finishing your sailing adventure.
With rocky islands jutting out of the turquoise waters, you go in search of secluded sandy bays that are few and far between and very rewarding. There are also some brilliant snorkeling spots, that the flotilla staff tell you about in your morning briefing.
For us the evenings were almost as rewarding as the days sailing (or motoring). Once you locate the harbour for the evening , they usually are a spectacular quant gift. Some give you a fairytale feeling with sometimes as little as 10 yachts and only one taverna. It is a great place to rest and talk about the day that's been or the one to come.
The (North) Saronic islands take you into the Saronic Golf, this is a large bay that you sail in and around. Methane juts out from Poro's bay and feels like a large island but has a small slither connecting it to the mainland. On the west side of Methane offers some of the best mariners.
Agistri feels like the central island with so many small islands jutting up around it, it has some amazing coves and snorkelling bays. On the other side of the bay on mainland is historic Edidavros.
Flotilla
We were part of a flotilla on both occasions, OCC for the Ionian islands and Greek Sails for the Sardonic, both companies were fantastic!
A flotilla gives you best of both worlds, you are free to do as you please but help is always on hand if you need it. Destinations and a variety of different anchoring procedures are all explained in the briefings. This enables you to have a stress free week as you will know where you will be mooring for the night. Your only worry is, who will buy the first beers.
Conclusion
Too compare the two, is extremely difficult as we absolutely loved both!!
The Saronic, although doesn't have the greenery or so many coves as the Ionian, it doesn't have the crowds and feels more adventurous than the Ionian. Offering more traditional quant mariners and even one of the largest amphitheater's.
But, it is impossible to deny that the Ionian's, with is abundance of beaches and coves, has more to offer. They are a wow factor for your average holiday goer.
Both of these stunning, idyllic locations make for an absolutely brilliant sailing holiday. And are easily accessible (especially the Ionian) compared with some of the other sailing destinations around Greece.
If it is a toss up between the two you wouldn't be disappointed with either but when you have sailed both, the Ionian comes out ahead, for us..