Date of travel: 9th – 19th October 2018
We continued our journey south west, if you haven't read about Central Albania, please click here: Central Albania
Please note – to travel the Albanian Riviera, you really need wheels as there is much distance between each beach. Please do NOT let this put you off. The spectacular mountain drive, as it corkscrews between them is a gift in itself.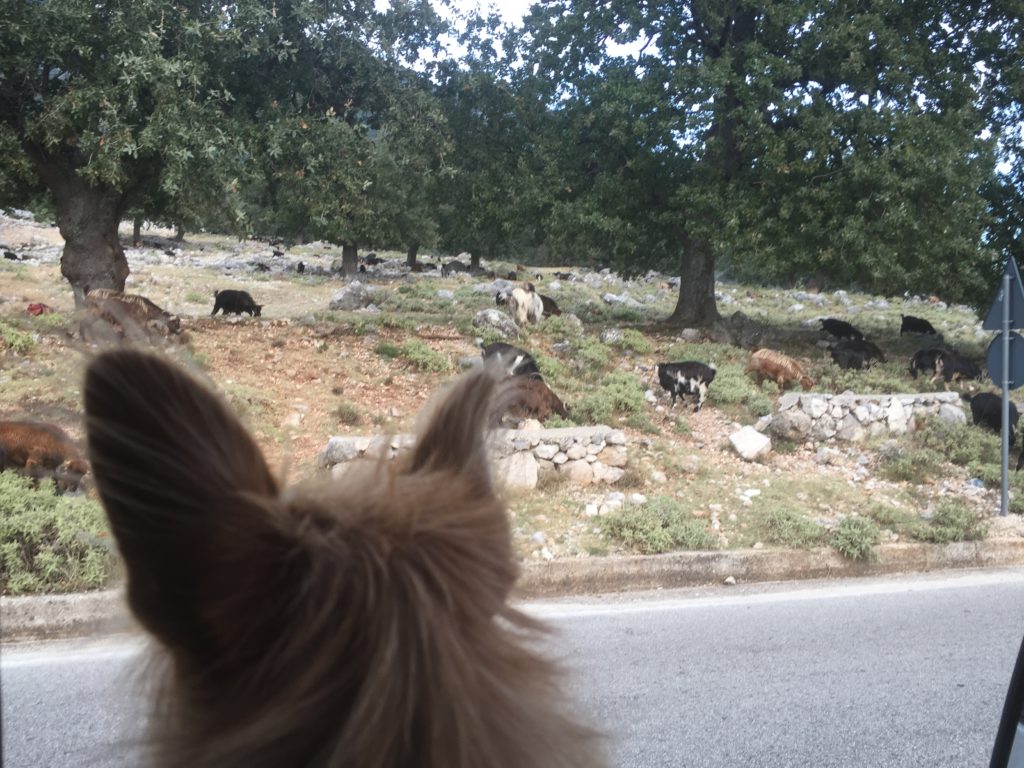 We arrived in the coastal city Vlora mid morning. We headed north of the city, straight for the beautiful long golden sandy beach to find a place to call home for a day or two.
The beach is huge and undeveloped apart from a few wooden beach bars scattered along it . As we were there in October the bars were not open but this meant we had the whole beach to ourselves except for locals doing their daily exercises and a few beach dogs that Alf had fun playing with.
The next day we walked south along the beach, where we found a newly developed port. Just past here there is a newly built promenade with lots of bars, restaurants and hotels. I imagine in season this would be buzzing with life. We spent 2 nights here but we could have easily spent longer.
We then continued our journey south along the twisting and turning mountain roads, stopping at the picturesque pebble Drymades beach for a night. A lot of reviews that we read, say that this is the most beautiful beach in Albania, who are we to argue…
We even got to share the beach with a cow who had a paddle to cool down.
We climbed up through the split rock to find yet another beautiful beach, this one was sandy so you have the best of both.
Next stop was Hirmare, we liked it here and thought it would be a great location for a week holiday, we spent 2 nights. This seaside town is split into three sections. The 1st is a modern pedestrian promenade full of bars and restaurants. The 2nd, a small pebble beach with a campsite and a few apartments. We were lucky and the owner of the campsite let us stay for free as it was out of season. And the 3rd, a long pebble beach with more apartments and residents.
Continuing south, Porto Palermo Castle is well worth a stop, it cost 200 Leke each to get in. We just wandered around but you can get a guide. There is also a small beach here if you wish to have a swim.
Borsh beach is a very long unspoilt pebble beach. It would be rude not to stop and have a swim, so we did….
We popped into Ujvara Varander where we enjoyed a coffee sat amongst a natural spring as it cascade around the seating area.
(Reviews for food on trip adviser are not great, we only had a coffee so I can't comment).
We then headed to Sarande, the main holiday destination in Albania. There are plenty of resorts and bars stretched along the promenade and 100s of shops. For 1st night we stayed in Camping Ecuador which is south of the city, we had the ocean straight in front of us and a river to our left.
From here we drove inland to Gjirokastër (it sometimes is spelled Gjirokastra) for the day, where we spent the day roaming the spectator Ottoman UNESCO old town.
The Castle is absolutely incredible and very well preserved. It is definitely worth pulling yourself away from the beaches of the Riviera to spend a day or two here.
We then parked for free closer to Sarande city with breathtaking views, I was very lucky and spotted dolphins whilst we were having a beer. We then enjoyed the evening having dinner and drinks along the promenade.
The following day we went to see the famous blue eye.
We should have incorporated this as a stop on the way to Gjirokastër as you do not need long here.
We continued our journey south to the stunning picturesque Ksamil, it really is paradise and in our top 12!! We spent a few days here, kayaking around the close by islands and eating at the local restaurants.
(Please bear in mind we were there in October so pretty much had the small beaches to ourselves, this may be very different in peak season).
Whilst here, we decided to be a bit more advantageous and kayaked along the coast to Butrint national park, leaving our kayak with some fisherman to look after. It sure was worth the energy as the archaeological site is very impressive! It's one of the most important in the country and is still being discovered to this day.
We kayaked back to Ksamil via lake Butrint which is absolutely huge. At one point we had to get out and carry our kayak with the help of a fisherman around a fishing gate. I'm pretty sure he doesn't see to many tourists and their dog doing this.
The following day after 2 weeks and 4 days, we said our farewell's to Albania, a country that we loved and headed back to Greece…
Thank you very much for reading about our Albanian road trip. I really hope you enjoyed it and it helps you to plan your trip to Albania. I wouldn't leave it too long…
Please click here to read our Albania – 12 Must Do's…